St. Martin/St. Maarten
Just about one year ago at this time, I was in this magical place, Saint Martin. Caribbean temps, panoramic views, and two countries on a 34 square mile island = quite a vaca. One minute you are on the French side of the island (St. Martin):
Pain au chocolat and cappuccino. The next minute, your are on the Dutch side (Sint Maarten):
If only all international travel were so easy. No customs, just a welcoming sign and planes landing, at what seems to be feet above your head, over the beach at Princess Juliana airport. Yes, we soaked in about 6 landings over 3 Carib beers surrounded by tourists of all kinds. Kind of amazing. Kind of scary! The island is very hilly, has a plethora of beaches (including nude ones; sorry no pics), and has the most delicious Guavaberry rum. What I wouldn't give for a Guavaberry colada - Guavaberry rum, creme de coconut, and pineapple juice - and a dip in the ocean right now. Ay! Instead, I will have to settle for reliving via visuals and a glass of wine.
Driving on this island is CRAZY. It's fast. It's hilly and there are scooters/motorcycles around every turn.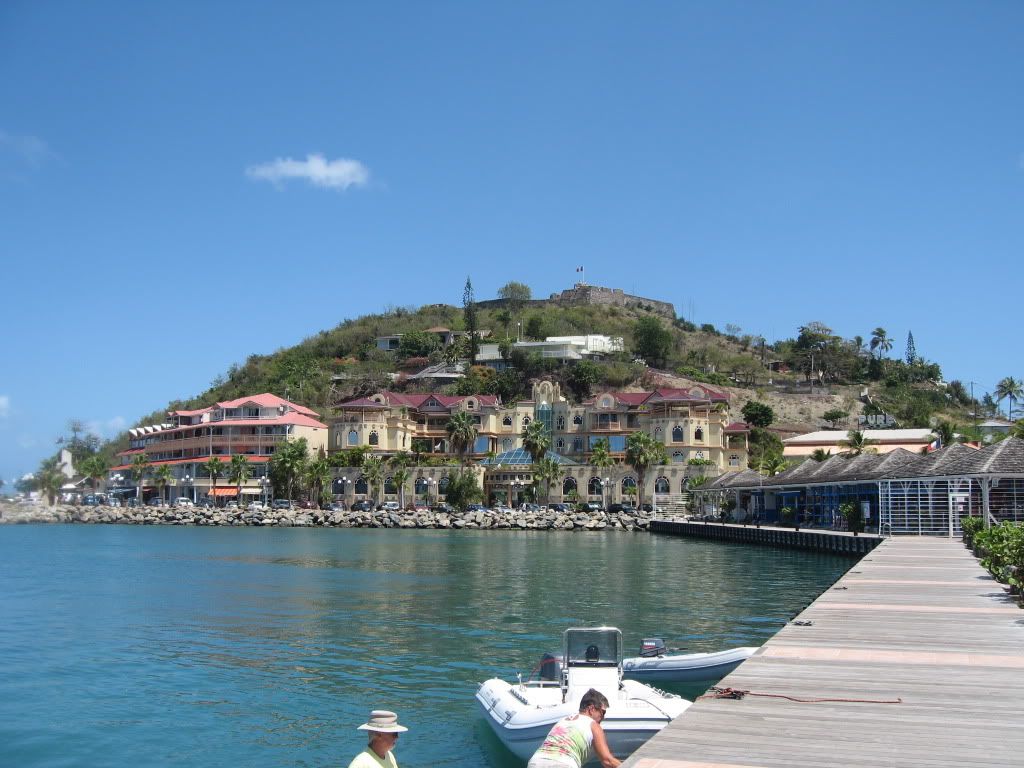 You can eat lunch on the harbor, while you dream of owning one of those homes set into the hill.
The highlights of the trip for me, beyond the sun, warmth and Guavaberry coladas, were the seafood and the sailboat. I don't have to explain the seafood part. It's fresh and it's amazing. The two best meals I had were the Caribbean lobster special at Topper's in Simpson Bay (Dutch side) and more seafood at Le Plongeoir, a cute, romantic, nautical themed restaurant on the French side. Covered patio, bottle of wine, and the buzz of the French language in the background? Yes, please.
But the sunset sailboat trip on the Passaat takes the cake. A 1911 sailboat serves as a full-time home for an adorable Dutch couple that will take you out on a 2 hour sunset cruise. They will serve you rum punch and hors d'oeuvres. They will give you a tour of the rather large cabin - their home. All for $35...and there were only 4 other people on the boat with us as well! Not a bad way to make a living: