Pre & Post: The Painted Dining Table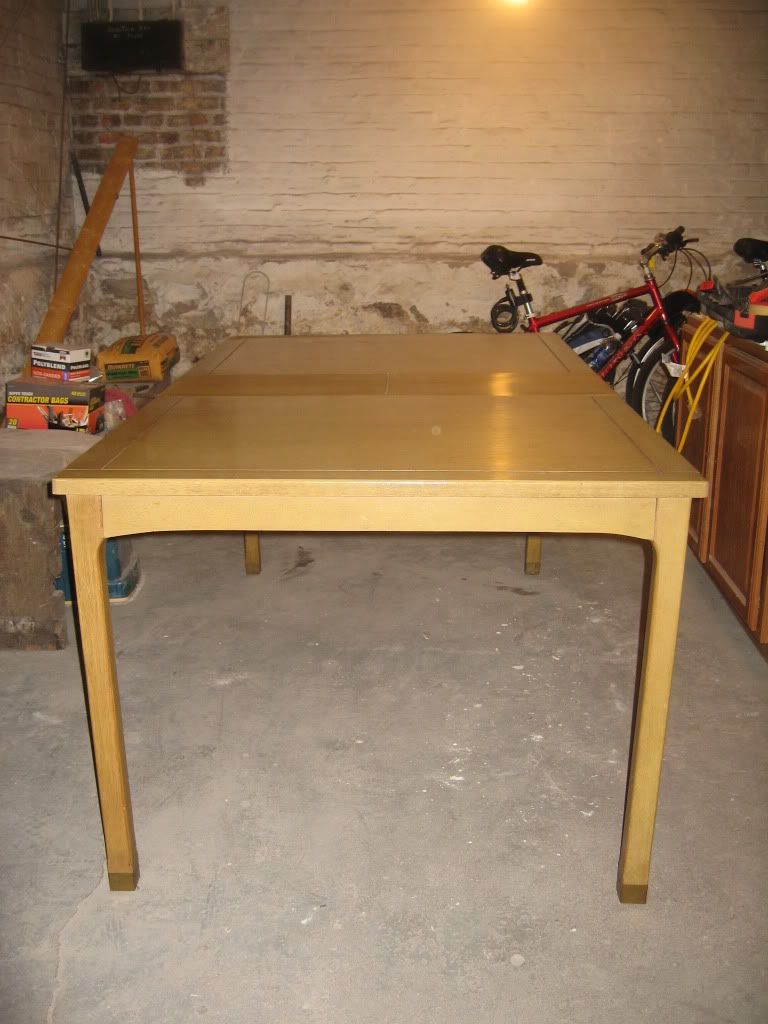 Formal dining room + low-budget to fill it + lack of willingness to commit because you are renting = sad dining room! Eating at a glass top Ikea desk seems pretty pathetic post-college. Way post-college. I needed a dining table and I needed one now for next to nothing. I had been cruising Craigslist, perusing rummage sales, and dreaming of overpriced designer models when I came across this gem on Craigslist:
Okay, it's nothing like a "gem," but it had fairly clean lines, a leaf, and it was $30. $30?! It spoke to me. Plus, the legs come off allowing it to be crammed into a hatchback car. Obviously, I couldn't leave it as is... a putrid yellowy wood veneer.
The veneer didn't seem to be in any shape to be refinished, and I had basically already decided the traditional, dark, wood-heavy dining room needed a pop of color. Since I already had cream and orange chairs, turquoise was in order. I had no idea how to paint a table, but these resources were the most useful to me:
And, the ever handy Home Depot. I sanded, I primed, and then I applied what was going to be 2 coats of high gloss latex paint. Seemed to work out just fine. I wanted to finish it with a clear, high gloss, top coat. After much debate, consulting Home Depot and handy friends, I decided on a clear, high gloss polycrylic. Long story short: BAD IDEA. High gloss apparently does not like to adhere to high gloss, even if you sand in between coats. Even if you switch to a foam brush. Brush strokes and streaks took over by beautiful turquoise masterpiece. In hindsight, I would have used a matte paint. Instead I ended up adding another coat of latex turquoise OVER the streaky polycrylic, but was still in need of that top coat. I felt raw paint wouldn't hold up to the whole dining aspect.
A clear coat of Rustoleum saved the day. Rustoleum is basically clear latex paint so the table is not as hard or as resilient as it would have been with a polycrylic or polyurethane top coat. I applied 2 coats of Rustoleum with a foam brush (not a foam roller!), and finished off by applying two coats of carnauba wax to the top of the table. Yes, I waxed the table like a car! It added shine, and I think it helps to protect the table. Or provides that new car smell to your dining room; you decide.
One week, about $100+/-, four Home Depot trips, one Auto Zone trip, and a lot of frustration later, at least the dining room has semi-grown up. Here's the final product: