South Beach, FL: From Patios to Jumpsuits
Just over two weeks ago, I told you I wanted the ocean, and I was lucky enough to spend 3 nights gulf side in Punta Gorda, Florida chilling with the boyfriend's family in perfect weather, feasting on freshly caught fish (not by me). Afterward, I took a little jaunt to Miami Beach with my partner in crime for two very short nights. Here is a miniature recap and the visual highlights. Patios
After the three-hour drive down Alligator Alley (sadly no gator sightings), we headed directly for the Design District in Miami proper in hopes of soaking in a little fabulousness. Sadly, it was Sunday and apparently the fabulous rest on the seventh day. Instead of wandering through designer showrooms, I found myself at Sugarcane having a chilled beverage on this lovely patio. Not too shabby. You would never know that a sprawling mall is just beyond. The lush greens and the lanterns made me want to stay until dark:
I also love the chairs on the right. Chairs on the left: not so much. After a beverage, we said goodbye to Miami proper and hello to Miami Beach, South Beach to be specific.
We stayed at the Catalina, a boutique hotel (read: designer furniture in the lobby, tiny rooms, quirky things) located just north of the main Art Deco district...closer to to the swanky hotels, but not nearly in their league. As mentioned, the room was the smallest I've ever seen and the shower was not the best, but it was clean and comfortable and quite affordable compared to our neighbors. Additionally, the location was great, they provided two free beach chairs (hello, sunburn!), and a free airport shuttle that actually showed up. The best part about the hotel was their two pools, including one on the roof with a bar providing free drinks from 7-8pm each night. Needless to say, I spent two nights wading in the pool, soaking in this view while sipping my gin & tonic:
On my very limited tour, the most picturesque patio award (that I experienced) goes to The Raleigh Hotel, which is not a surprise. Every inch of their back patio was charming from the pool area to the bar...
...where I perched under the shade of this tree, complete with its own orchid planter.
Beach
Self explanatory: great people watching, beautiful water; I was crispy after two hours.
Cityscape
A bit to my surprise, but I was mesmerized by the cityscape of Miami, particularly the old art deco, the neon, and the color contrasting all the white. As mentioned, you could see some of the swanky hotels from the rooftop of the Catalina, including the epic Delano by Philippe Starck. While I couldn't afford to stay here, think about eating here, or rationalize a drink here, I did swoon, SWOON I tell you, walking through the lobby and back to the patio.
A bit south is all the glorious art deco madness:
Some of the famed Ocean Drive hotels: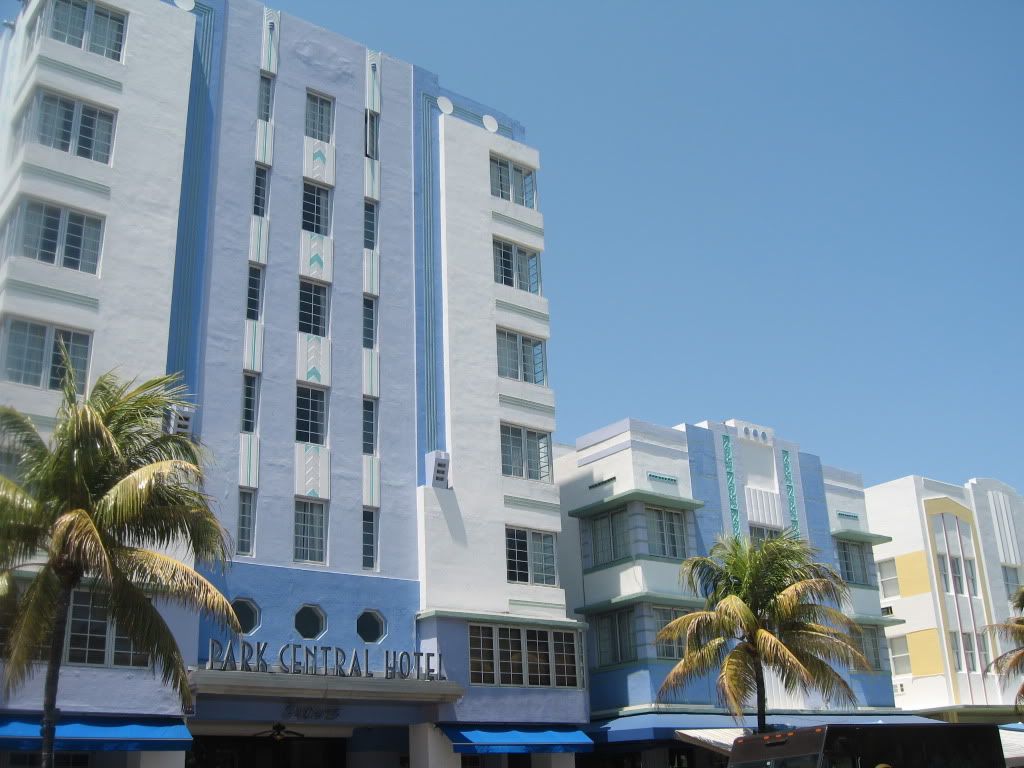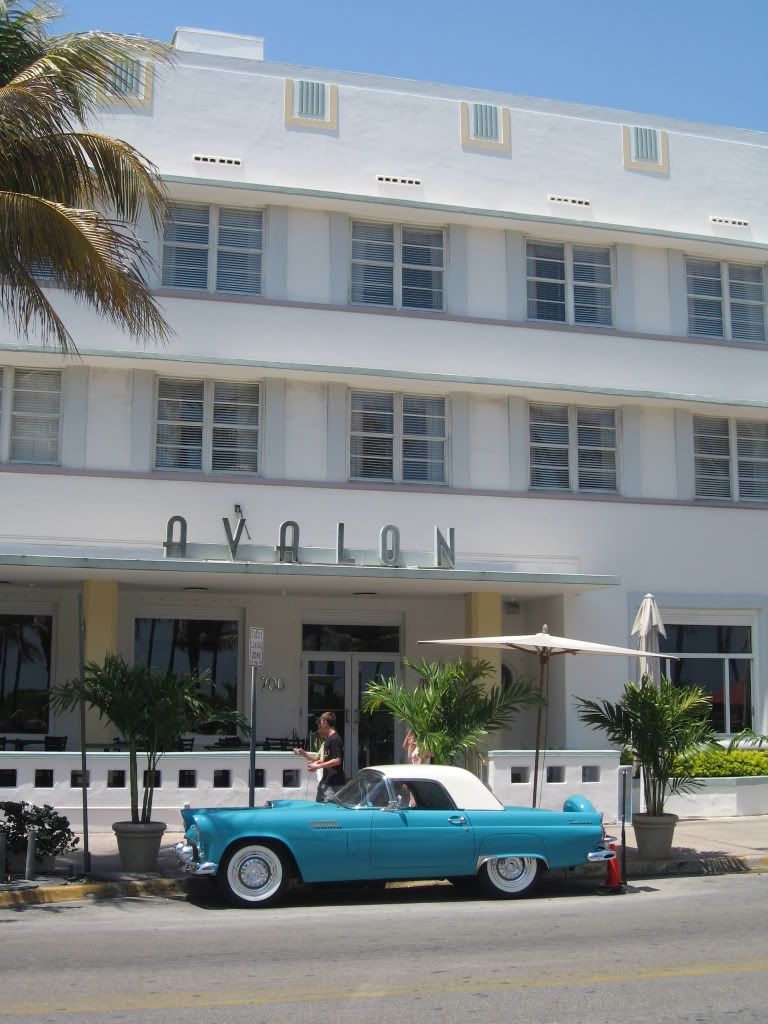 Eat and Drinking
I wouldn't say I had a truly amazing meal while in South Beach, but I did enjoy all the meals I had, for one reason or another.
Spiga - Italian, very cute patio/interior ambiance on Collins
Groovy's Pizza - multiple locations, great for a budget lunch. NY style slice and a soda for $6.
Bella Cuba - Poor service. Good Cuban/seafood.
Ice Box - Delicious dessert among the Lincoln Rd. chaos
Mac's Club Deuce Bar - What can I say about this place besides, WOW. Total dive in the middle of South Beach clubland. The beer list is on a crumpled piece of paper, you can cut the smoke with a knife, and a can of PBR was only $5. A hell of a find. It's reminded me of the Rainbo in Chicago, but a bit grittier and a more eclectic crowd.
Front Porch Cafe - Not particularly special, but nice brunch spot in the lobby and front porch (get it?) of the Z Ocean Hotel. I recommend a stroll through the lobby as well. It's not terribly touristy despite the location, and I had pretty amazing Mahi Mahi tacos, which may have been my favorite and almost least expensive meal.
Miami Beach references worth checking out: Design*Sponge, Design District, Miami and Beaches
Jumpsuit
As much as I looked forward to the warm weather, the beach, and the mojitos leading up to the South Beach trip, I would die just thinking of wearing one of my most recent vintage purchases, this ridiculously fabulous jumpsuit that happened to fit me like a glove (albeit an 80's glove):
Vintage jumpsuit from Axis of Evelyn, vintage belt from Seek Vintage, Melissa por Herchcovitch; Alexandre shoes, my grandmother's vintage necklace, pink chest courtesy of the South Beach sun, ridiculously placed Arne Jacobson Swan chairs in Catalina Hotel mezzanine.
All in all two days in Miami is not enough! The sights are beautiful and I learned that if you buy one of those drinks that you can swim in during happy hour, they will give you your second, free drink in a to-go cup, which is scary and beautiful at the same time. I was surprised at how much I enjoyed the city, and I think it could even make my Top 10 US list.