obSESSED: Neko Case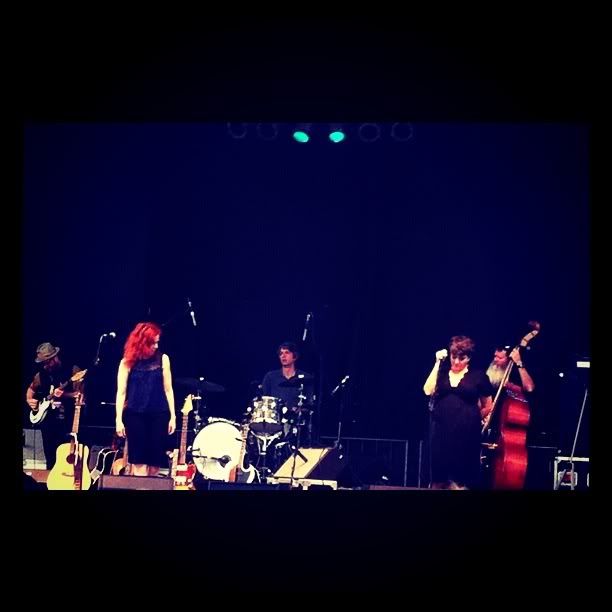 If you know me at all, it's not a secret that I am obSESSED with Neko Case. Not in a creepy way, but in a I really, really love her music way and it's high time I wrote about it on this thing. You can read about the obSESSION origination and my review of Middle Cyclone, her last release, on the fabulous One Kind Radio.
On Friday, July 15, I saw Neko Case play at the infamous Pitchfork Music Festival in Chicago, which inspired this post. The weather was beautiful, and I'd love to pretend like I'm still up on on indie music, but I have fallen embarrassingly behind. I was seriously there just to see Neko (okay and interested in Guided by Voices), even though one-day tickets to Pitchfork were a whopping $52 and change after fees. That's a lot of dough for a show, but clearly worth it. She rocked it as much as ever and it's like therapy seeing her play live, which I have been doing on average of once a year for the past 6 years:
Champaign - The High Dive - 2005
New York - Webster Hall - 2006
Vancouver - Centre for the Performing Arts -2006
Chicago - Park West - 2007
Chicago - Hideout Block Party - 2008
Chicago - The Chicago Theater - 2009
Chicago - Pitchfork Music Festival - 2011
I should also note that my oldest BFF bought me a Kathleen Judge screen print signed by Judge and Neko from her 2006 tour that is matted and framed and hanging in my office/spare bedroom. I love my friends. In a tribute to Neko, and in an attempt to convert more people to go to shows with me, I bring you the best from each album complete with style recommendations. I think she has a little something for everyone.
The Virginian - Listen if: You love country
"Timber"
"High On Cruel"
Furnace Room Lullaby
- Listen if: You love angry/sad countryesque ballads
"Set Out Running"
"Guided By Wire"
"Mood To Burn Bridges"
Blacklisted - Listen if: you don't mind a banjo and amazing songwriting (This is a desert island album for me. It is really hard to choose favorites.)
"Stinging Velvet'
"Deep Red Bells"
"I Wish I Was The Moon"
Fox Confessor Brings The Flood - Listen if: you need much less twang and you want to get the chills
"Hold On, Hold On"
"Margaret Vs. Pauline"
"The Needle Has Landed"
"Star Witness"
Middle Cyclone - Listen if: you want your mind blown. Considered her most "accessible" album
"This Tornado Loves You"
"Prison Girls"
"Magpie To The Morning"
"Pharaohs"
"I'm An Animal"
Yes, I included 5 songs on that last one, so what? What's your favorite musical therapy?
Photo courtesy of my show companion, R.