Impromptu Pork Chops with Apple Cider Gravy and Apple Tart
I'll admit it: I've been tragically terrible at planning dinner and cooking for a while now. I don't know what it is; I like cooking, but I can't seem to make and stick to a plan. I think it's partially because I hate going to the grocery store. I vow to remedy this problem for the winter. In the meantime, what I do have is a freezer stocked with some basic proteins thanks to Costco and a random assortment of staples in the fridge and pantry. Not all that I should have, but it's a start that enabled me to whip up this fall-perfect dinner last week on the fly. All that was missing was the broccoli rabe that I let go bad in my crisper. (See first sentence of post.)
Luckily I still have some potted herbs in my backyard...they might be dead by now, but last week at this time they were still alive and kicking - well the ones that mattered anyway...
So here goes dinner:
Chop 2 tablespoons (or thereabouts) of parsley, sage, rosemary and thyme. What up Simon & Garfunkel?! No need to keep them separate....I was making things up as I went so I wasn't sure what I was doing.
I dug out my individually freezer-bagged 1-inch+ thick boneless pork chops the night before, to defrost in the fridge luckily....you could easily do this with thinner chops, pork tenderloin, chicken, or maybe a Portobello mushroom or some crazy fake meat for you vegetarians out there.
Light the grill (or have your live-in griller do so). After letting the chops come to room temp, drizzle both sides of your chops with olive oil, sprinkle with salt and pepper and rub both sides with all but about 2T of the herbs.
In the meantime, make mashed potatoes from scratch. None of that boxed crap. If you don't know how to make them, google it. Eyeball the milk and butter to your preferred taste and texture, but do me a favor and use real butter, okay? Add a few dashes of the fresh herbs.
While the potatoes are boiling, start the apple cider gravy. I know what you're thinking, who has apple cider lying around the house? I do. It's fall and I froze some of the gallon I bought. I adapted this recipe for the gravy. I needed about twice the flour because with all that liquid it was too thin. I also added a few dashes of the herbs, and a whole bunch of pepper to cut the sweetness of the cider. I also used vegetable stock because that's what I had. In hindsight, I'd probably make the stock and cider a bit more equal.
Grill the pork chops approx 8-10 minutes per side, depending on thickness and let rest 5 minutes before serving beside the mashed potatoes. Drizzle both with a healthy helping of apple cider gravy.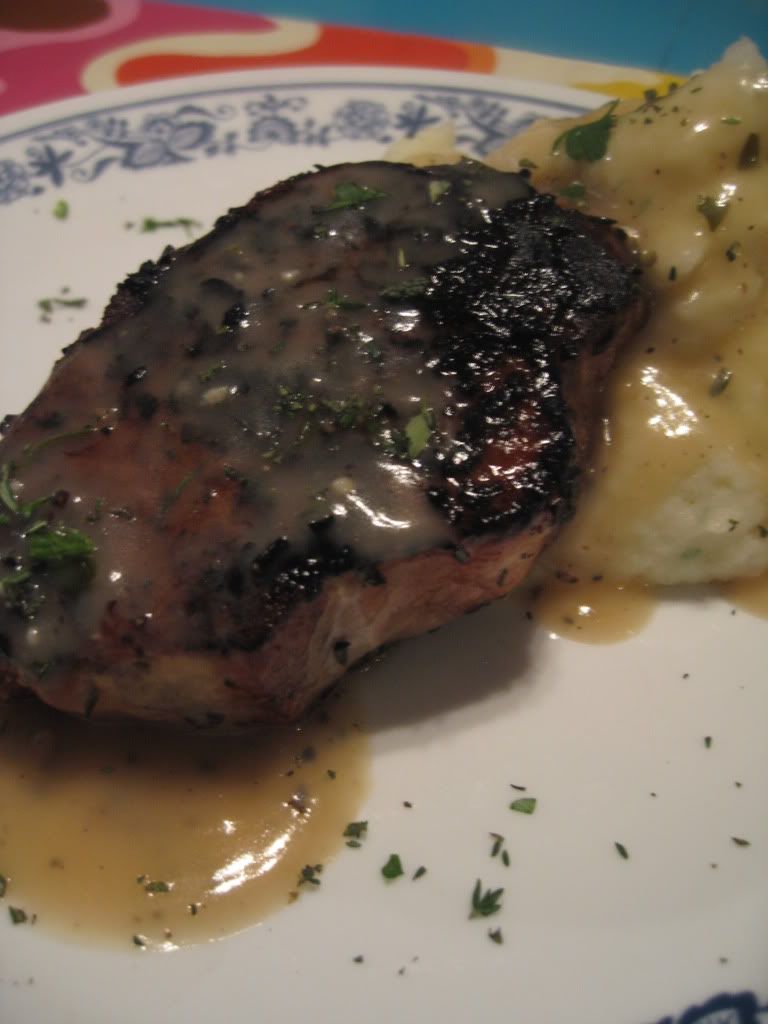 Please serve with a vegetable....perhaps braised broccoli rabe if you have some on hand. (This recipe is perfect.)
For dessert:
I have started keeping frozen puff pasty in my freezer when I think of it and, incidentally, part of a container of marscapone happened to be in there from when I made this heavenly tart. Since I had some gala apples on the verge of death I adapted this tart into dessert!
Preheat the oven to 400. Peel the apples and cut into slices...I think I used about 3.5. Mix copious amounts of cinnamon with a few dashes of ground cloves, ginger and brown sugar and a splash of apple cider. I'd give you measurements, but I have no idea....do it to taste. Toss the apples with the mixture. This would actually be good as is or roasted for a bit.
You'll need one sheet of frozen puff pastry, unfolded on parchment on a baking sheet. I mixed a few tablespoons of marscapone with a bit of milk and a drizzle of the spice mixture from above. Spread it over the puff pastry and line up the apples over top. I resisted the urge to add some chunks of butter to the top, which Barefoot Contessa would have done. Bake for about 20 minutes or until the edges are puffy and brown and the center is bubbling. Top with a handful of chopped, toasted walnuts. Voila, fall meal complete. Store leftovers in the fridge, or suffer the consequences I did of having to toss half the tart two days later.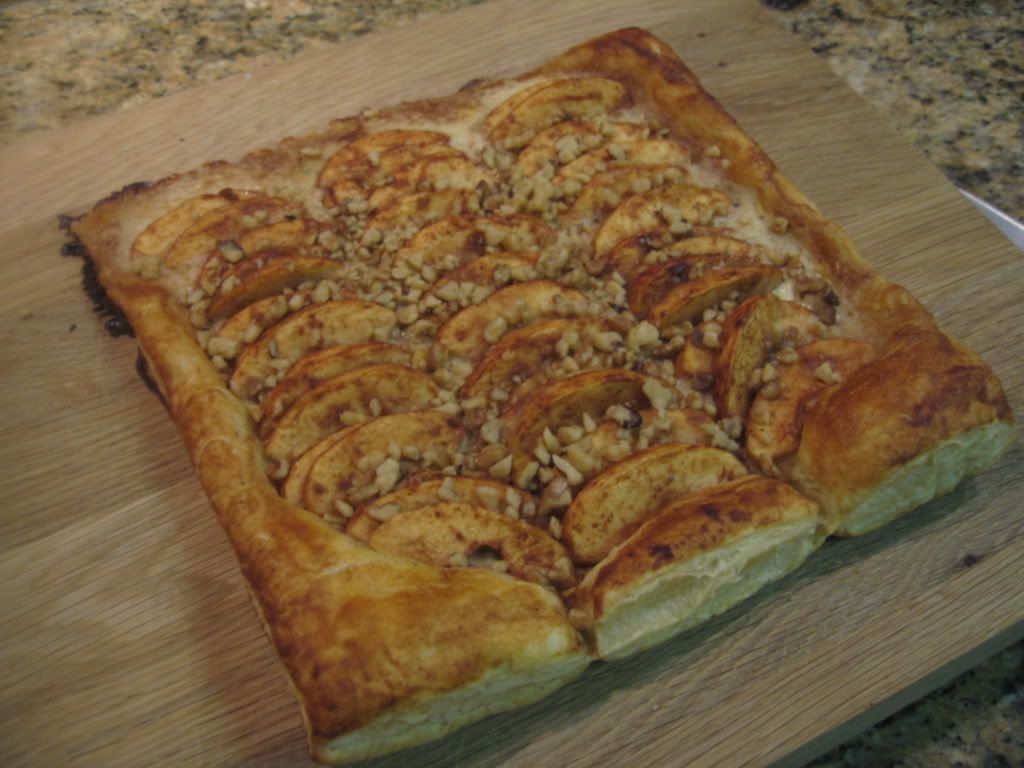 I rarely improvise a substantial meal like this but the success of this one has inspired me to be more adventurous and resourceful in the kitchen. And hopefully squeeze in a dinner party before the Holidays are in full force...Happy cooking and happy fall.