The Macaron Experiment
[Image via pinterest]
After talking about it for a year, and setting a date about 3 weeks out, my friends X, SC, and I decided to give baking French macarons a try. We had heard that they were difficult to make, but we had confidence in our mad baking skills. 1pm, my place last Sunday looked like this:
A slightly hungover me (thanks to a wedding the previous night), a very prepared friend X who showed up with boxes of confectioners sugar as far as the eye could see, almond meal, pastry bags, food coloring, and pistachios, and my friend SC with an 18 pack of eggs, Nutella, and juice for the mimosas. I always keep bubbly on hand. After a pot of coffee, we hit the ground running....er hit the KitchenAid running.
X was really leading the charge on this (as you can tell by her supplies) and she had found the recipes we'd be trying. First up was this one, which made oodles of sense since it was supposedly the famed Parisian Ladurée macaron recipe after all. Whether it is or not, these three eager American girls failed miserably at executing the recipe. We followed it exactly though, 7 egg whites and all, which we whipped into a meringue and folded in the almond meal/sugar mixture. Seriously, that's the extent of ingredients. Then our expert piper, SC, piped them onto our cheat sheet of parchment paper circles. We thought they looked glorious.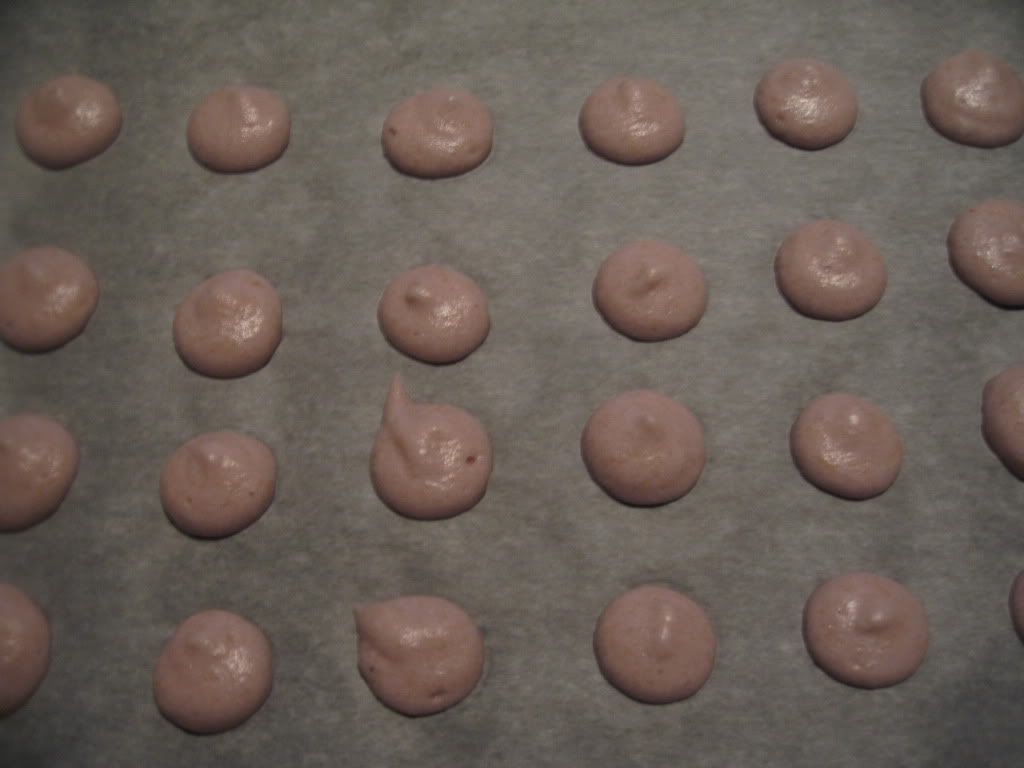 We put them in the oven and nervously sipped our mimosas for the next 8 minutes. And we were greeted by deformed, bubbly, slightly burned alien macarons with a wet interior and no "feet!" What a disappointment. Maybe we poured too much water under the parchment and should bake them for 1 minute less. Let's try sheet 2. Nope it looked like sheet 1. X dashed to the laptop fiercely googling "macaron troubleshooting." Feetless macarons probably meant we didn't beat the eggs enough (that was my job - oops.)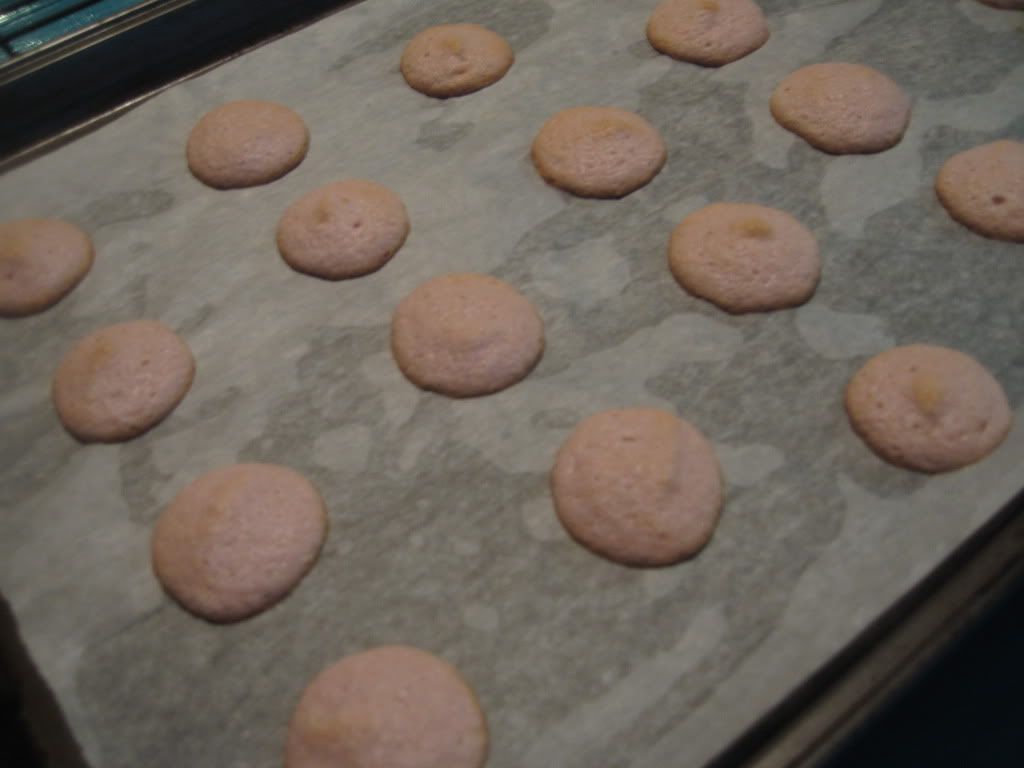 Onto batch 2! This time we tried making blue and we beat the crap out of those egg whites. Rinse and repeat and we were pretty much back at the nasty photo above only in putrid blue. We tried multiple sheets, different pipers, oven door ajar, oven door closed. This recipe just was not happening for us, despite our valiant attempts at smearing Nutella on a soggy excuse for a macaron half, which we just started calling macaron tacos. Macarons are not supposed to bend like a taco shell!
Luckily, X had another recipe on the agenda: pistachio macarons. And this one only called for 1/4 cup and 2 tablespoons egg whites, which was just under 3 eggs for us. The key: significantly less wet ingredients. We forged on. The batter was much thicker and liquidy this time around. It oozed out of the pastry bag and we had our doubts. We did NOT let the batter rest an hour as the recipe instructed. Are you kidding me? We were already trying to Yelp where we could buy French macarons in my neighborhood on a Sunday (which was absolutely nowhere.)
Before panicking completely, we held our breath, poured another mimosa and waited the required 9 minutes. Well, really we waited 8 until I cracked the oven and did the happiest of happy dances - I could see the "feet" on our macarons!! The recipe worked! Okay, they were a little deformed, and X accidentally added pink food coloring instead of the green to match pistachio, but they looked right and appeared to be baked through. By this time we were too lazy to make the pistachio filling so we just went for it with good ol' Nutella, but we had been successful and had a whopping 15 pistachio macarons to show for it.
Which we promptly ate most of, saving one for each of our better halves (and 2 for ourselves). And almost 5 hours later, we parted ways each of us on a blissful sugar high from conquering the macaron.