Tour of the Midwest
6 days. 4 towns. 2 states.
This is how I began my 2012. For the past few years, instead of getting each other large Christmas presents, B and I try to take a trip together, whether small or large. Seeing as we have a fabulous family wedding to attend in Mexico this month, we went small with this trip to minimize vacation days. I'm calling it a tour of the Midwest, which involved tag-teaming travel for work and play.
This tour of the Midwest is really quite incomplete, but it's a start. Grand Rapids, Michigan kicked it off, and I honestly didn't see much since I was there under 24 hours. This will be a theme of this tour. I do recommend the JW Marriott, which was a fun splurge including the large bathroom, a nice pool area with steam rooms, and expansive views. There's nothing like waking up to a view:
Founders Brewery was the main reason for the destination, which did not disappoint. I had the Frangelic Porter to start and I wish I had a vat of it with me now. Or always. They had it on nitro, which was heavenly. It seemed more like a stout to me and tasted of chocolate, hazelnut, and the aforementioned heaven. I haven't really met an IPA that I've liked, but leave it to Founder's to change that. The All Day IPA was quite drinkable without having that super nasty hop aftertaste. We left Grand Rapids with a growler of it for our next stop, Coldwater, Michigan.
In a few words: Lake house, old friends, communal meals, including my favorite fish tacos and salted caramels, Loaded Questions, and general good times. You get the idea. I kicked off my 2012 with a short run on New Year's Day to start the year off right. I haven't run since, but it's the start that counts, right?
Next stop Ann Arbor, where I indulged in more porters from an expansive selection at Ashley's, followed by an Indian dinner, and finished the night off at the cozy Jolly Pumpkin. A sandwich at Amer's started my next day on my own, which was inevitably followed by falling in love with two vintage/antique stores. The first was The Getup on State street. I have to say, I was braced for disappointment as I had just been in a vintage store down the street that I left empty handed. My only complaint about The Getup was that is was so PACKED full of vintage clothes, shoes, and accessories, that I ended up being in there for a long time. Digging. I may have even been left alone in the store while the clerk went to Chipotle. Gotta love college towns! They have a great selection of mostly 40's - 70's items. Let me tell you I tried on a pile of things, but walked out with only two well chosen items, a camel colored trench and a red dress. More details to follow!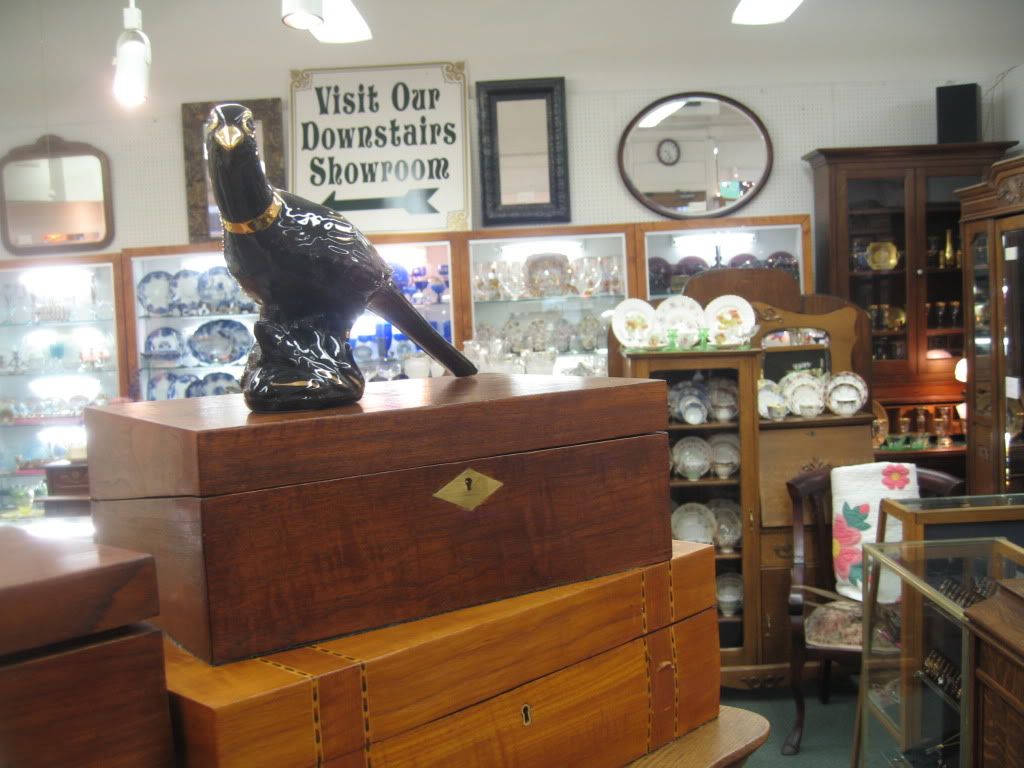 The other store that I have been dreaming of since I left was The Arcadian. I've seriously been thinking of excuses to go back to Ann Arbor solely to shop this store and check out their other location. This place was dripping with vintage and antique jewelry, from an expanse of eras. They had engagement rings/wedding bands, all kinds of baubles, silver, and copious amounts of cameos!
Not to mention the dishes, furniture and other items that I didn't even get to because I was so blindsided by the jewelry. I ended up purchasing a 1920's paste and sterling necklace from the case below to wear for the wedding. It's not pictured, but it was among this crowd and a bit less blingy than most below. I have no clue how I will resist wearing it for 8 months. The owner, Rhonda, even said she'd try to find some paste earrings for me on her next buying trip. I can't recommend this shop enough if you ever find yourself in Ann Arbor.
The last stop on the tour was West Lafayette, Indiana. Unbelievably, I've never been to this town and it was another case of not really seeing much. And after taking in all that Midwest goodness in MI, I was ready to just eat and sleep. I don't recommend ordering sushi in West Lafayette. After a few work meetings for B, a stop at the student apartment lobby I'm doing a bit of interiors work on, and some Qdoba we were headed home. But not without snagging one nspiring picture from Purdue, even if I did trip over a half full can of PBR on my way to it:
That's all I've got, Indiana, some windmills (top) and a quote.