Crostini Bar Punch Party
The cocktail dispenser debuts!
I'm slowly learning that the key to hosting a good gathering is making ahead. Take it from possibly the only woman that can burn her face boiling lasagna noodles, that the bigger mess you can create and clean up pre-guest arrival, the less crazy person you will be night-of. Also, if you can get a friend to come over 2 hours before said party to basically prepare and assemble the rest of your food while you're running around changing outfits, rearranging platters, and making punch, you have a golden nugget of a friend. And yes, you should take the help even though you're a kitchen/hostess control freak.
Photo and recipe via epicurious.com
The Punch
This Napa Valley Winter Punch didn't look quite as delicious as this picture. It was more orangey-brown, but the spice combination tasted amazing and so perfect for a chilly day. I pretty much made it exactly as instructed, except I used Mount Gay rum and doubled the recipe for good measure. It was gone mid-party. Luckily I had a backup, albeit less fabulous, punch, a fridge full of craft beer, and a stocked bar to supplement.
Crostini Bar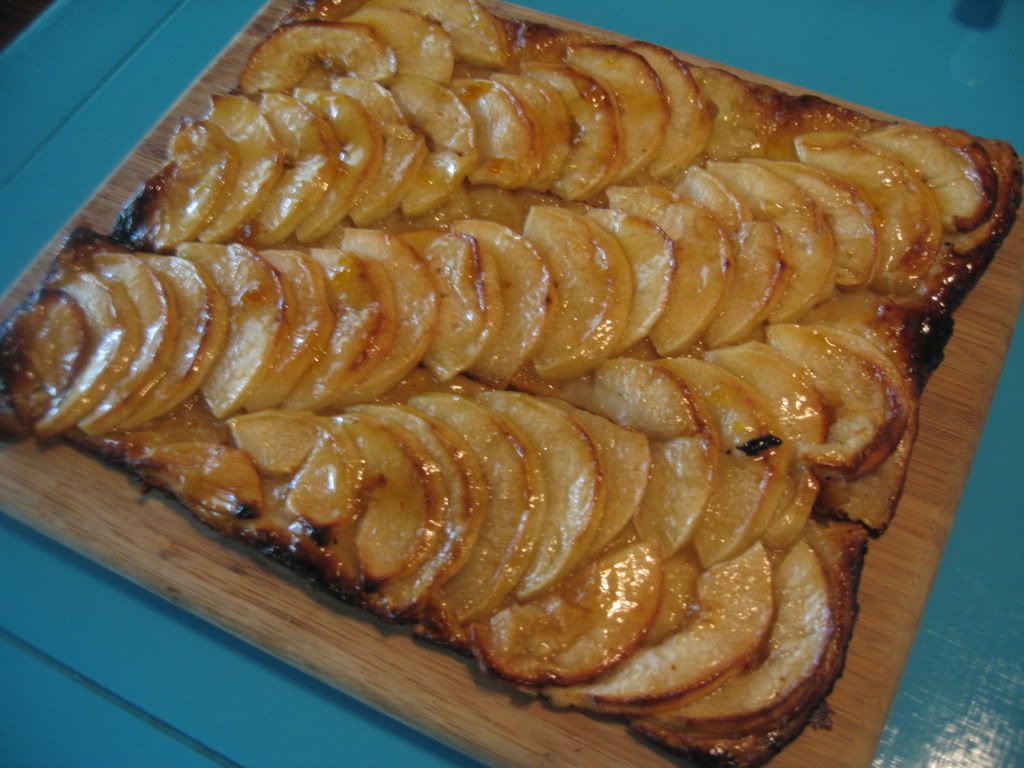 vs.
Barefoot Contessa's tart My tart
In addition to a cheese platter with my favorite combination of manchego and quince paste, dark chocolates, and the easy-make rugelach rip-offs that I mentioned before, I decided to make what might have been the most beautiful dessert I've ever made. I tried an impromptu apple tart once and it was okay. For the party, despite the recommendation of making "something simple" or buying cookies, I made Barefoot Contessa's French Apple Tart and ooh la la it's gooood. I cheated and used frozen puff pastry and subbed Mount Gay rum for the Calvados. I don't recommend making this without the parchment paper, as I did since I was out. The half stick of butter that you sprinkle about oozed everywhere and I had a burnt butter mess that involved some tricky butter siphoning removal mid-bake. Regardless, the tart came pretty gorgeous, delicious, and made a great breakfast the day after.
If only I could host a crostini bar punch party every weekend, I think I would. Maybe sometimes it would be catered though. A girl can dream, right?