Santa Barbara and Beyond 1 of 2: Scenery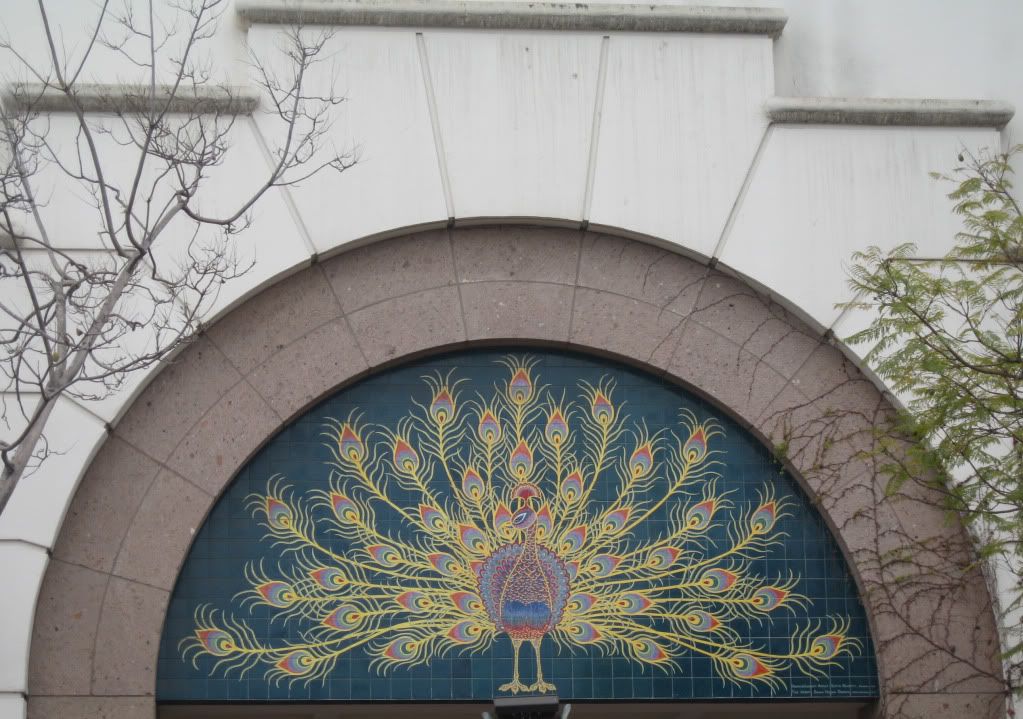 [State Street Macy's Detail]
I can't believe it's been almost a month since I last posted. I also can't believe that I let March 19, unpatterned's 1 year birthday, come and go in silence. Ah well, we'll come back to that. Without further ado, onward and upward with the latest adventure, a long overdue visit to my little brother in Santa Barbara, California.
I had been to visit SB once in 2009 with my mom. Hence overdue. B and I made it a priority to make it happen this year and before I knew it, I was checked into the oceanside Harbor View Inn. Due to the beautiful and indulgent nature of this trip, I'm dividing it into two posts. Up first, the scenery. It's no doubt that it's what I'm best at remembering to take photos of and with the ocean, the mountains, and Spanish-inspired architecture, there's a lot to take in in SB.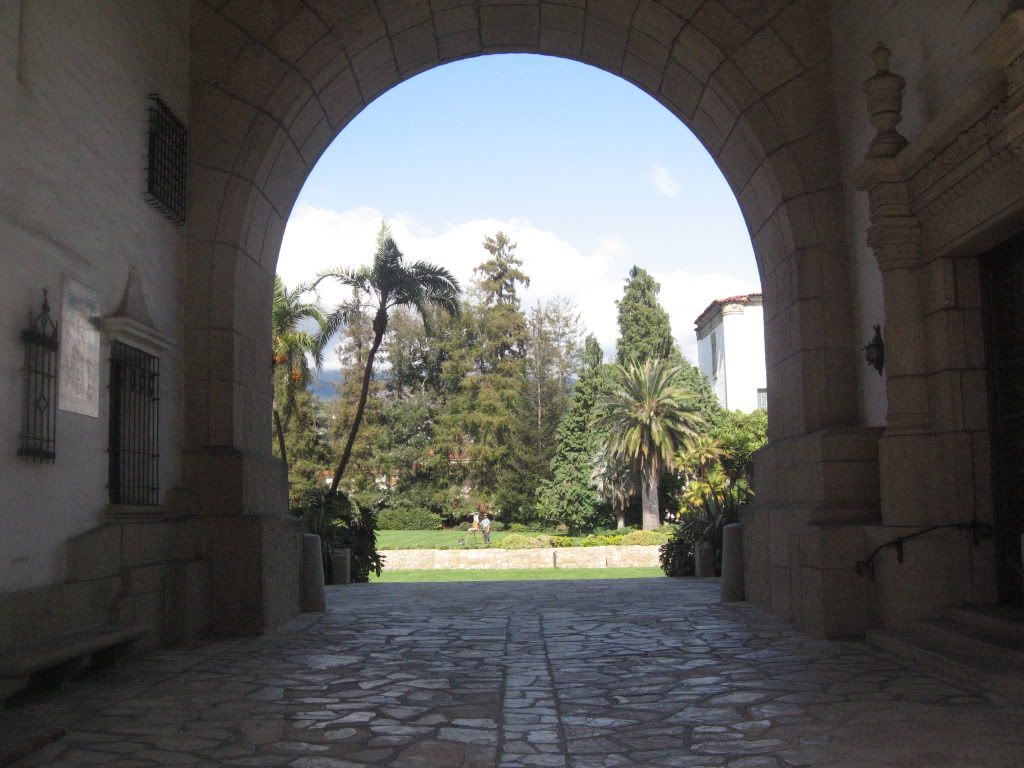 Such as the courthouse. They give free tours at 2pm Mon-Sat, so we took advantage. It was well worth it, as the courthouse was quite beautiful and we spied that guy above painting and a small wedding party taking photos.
The building was built in the 1920's after a fire destroyed the original Greek Revival building. It was, of course, built in the Spanish style like so much of the rest of SB, but the tour revealed some interesting details. I was most amazed by the fact that the beams are actually concrete painted to look like wood. They had me fooled.
The courthouse is filled with a bit of a hodge-podge of details: historically inaccurate murals throughout, glazed/painted Spanish tiles, an ornate copy of a dome, a large rosette window, and cool, open-air hallways that have views out to the former jail (below), which is now offices.
The best part of the courthouse is the fourth floor viewing tower, which provides 360° views of Santa Barbara.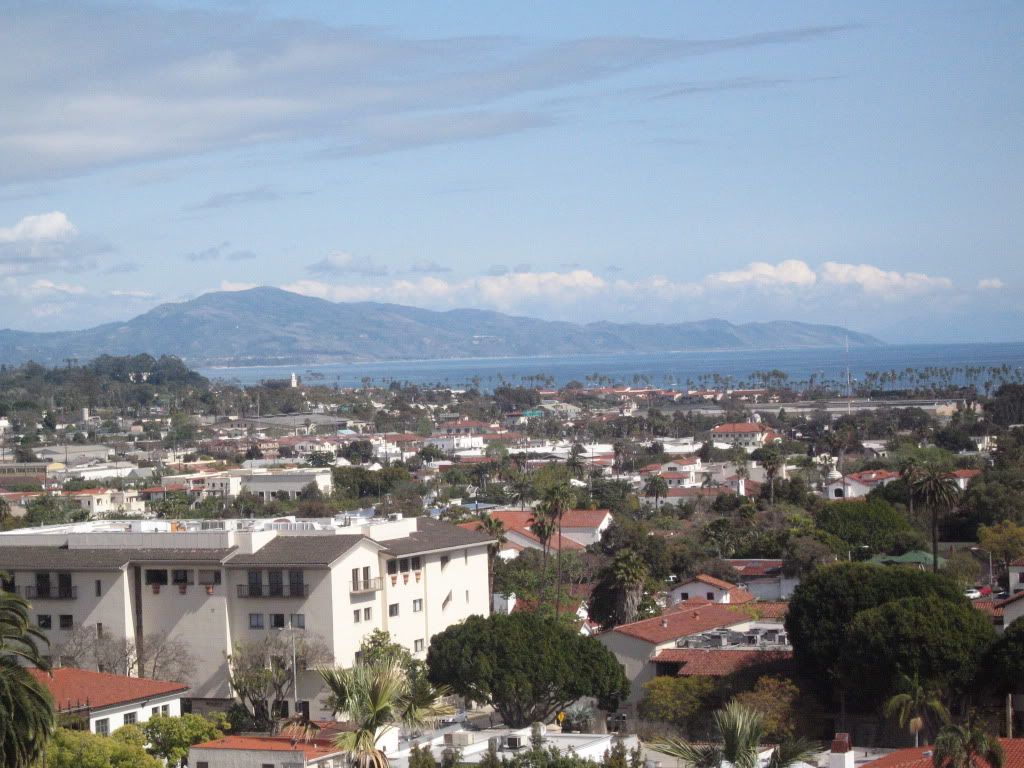 I think the courthouse tour is the only part of the Santa Barbara leg of the trip that can be considered strictly "scenic," rather than indulgent as well. Well, I did squeeze in two ocean side runs that were fabulous. Otherwise, we did a lot of eating and drinking, which included an overnight trip to the touristy, wine town of Solvang. More on that in the next post. The town is full of weird "Dutch-style" buildings, which I don't think are really Dutch, and a whole bunch of kitsch in shop and architecture form. It is also where the movie Sideways took place.
However, there are a few worthy non-wine stops, particularly The Book Loft , which houses shelves of used books, rare books, and a Hans Christian Andersen museum. Plus the ground floor is full of new books and a cafe, all rolled into one as per the sign above. You could spend hours there! I also got a sweet deal on this Hobo wallet, which was marked down 30%, at First Street Leather. Double bonus.
After five days in the Santa Barbara area doing what we came to do: eat, drink, and spend some quality time, we did the two-hour drive back down to Los Angeles. I'm not going to lie, I don't love LA, but like I said, I'm a sucker for a view. So it seemed like a great idea to hike Mt. Lee in Griffith Park to check out the views from behind the Hollywood sign and to try to work off a bit of that wine. The "hike" is mostly on a paved road so it's not difficult, but my shins still killed the next day. (There are no hills in Chicago!) But the view did not disappoint. There's something thrilling about being behind the iconic Hollywood sign with panoramic views of all of LA and the hazy city in the background. Of course there is a chain link fence blocking you from getting any closer to the letters. It is LA after all.
Santa Barbara: the indulgence edition is up next.