Unpatterned Home: Christmas Edition
Christmas is a little different around these parts since last year. Same place, new decor: upgraded to our first full-size real tree (I always had a real tree growing up), I created mantel madness, and claimed some "vintage" handmade ornaments from my parents for non-tree decor. However, some things don't change: I still love that Wham! song, cheese, and cookies. And I am once again, letting Holiday cards go by the wayside. If you follow me on Twitter or Instagram, you may have already seen these ornaments, but they are at least 30 years old and were handmade by my great-grandmother, better known as Buschia. My only real memory of her is her 101st birthday, which was around the time I was five, and these ornaments. I have very few decor-related relics from my ancestors so I find these to be precious. They are in amazing shape considering how old they are and how detailed. I'm calling them the original DIY. Not missing a sequin after all these years!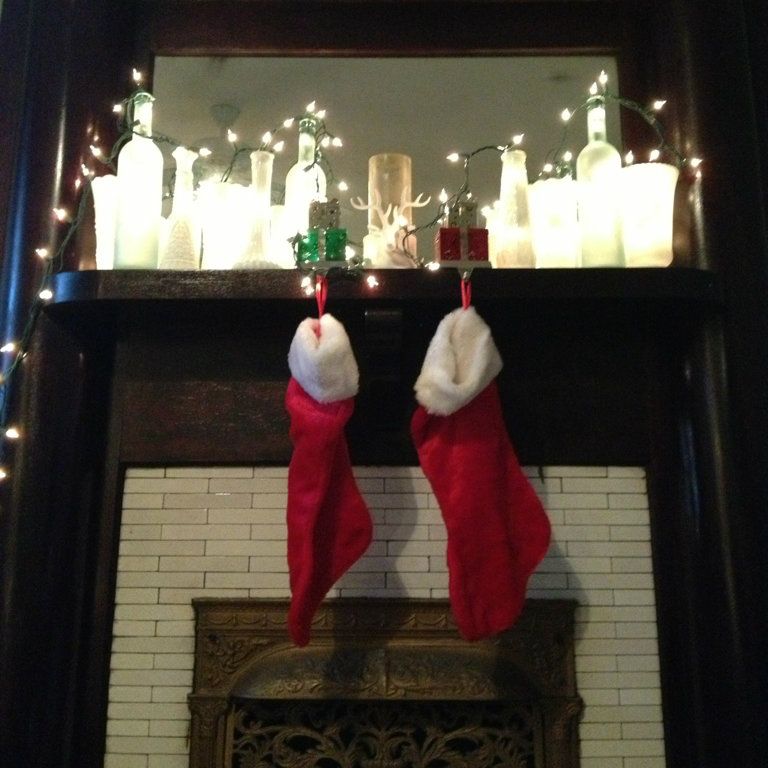 Early on in my wedding planning days, I had a vision of having a bunch of milk glass on the tables. Ugh, I know - stupid Pinterest! I collected about 8 pieces via local thrift stores before scrapping the plan for glass jars instead. I also inherited a collection of frosted wine bottles from a friend during the wedding planning phase that have been living in our sunroom window because they are just too pretty to recycle. After I found this little porcelain deer head candle holder at Target randomly one night, I was inspired to create the above mantel lantern-type madness. If only I had went the extra mile to spray those ugly stocking holders white as well! Next year.
Still not perfection, but I think this mantel KILLS last year's. (So does the iPhone photo.)
In my dream world, I would have collected a bunch of great vintage ornaments to go with Buschia's and created a tree masterpiece. But instead, we ended up buying a variety pack of silver/white ornaments at Costco to go with the few smaller ones we had, white lights, and calling it a day. I'm quite pleased with the simple monochromatic look.
There is one rogue ornament, but I think it fits in quite nicely. Not exactly sequined, or handmade by me, but sentimental no less.
Happy Holidays to you and yours! What's your seasonal decor? Do you have any sentimental pieces, or random box store finds? Fabulous vintage ornaments?