SWA Companion Pass Chronicle #1: Charleston 2 of 2
My love for Southwest Airlines is a widely known fact. Ask anyone on the street and they will tell you, "Oh yes, that Carly loves her some SWA." While the love was something I learned from B and a couple crazy Rhode Islanders it continues to grow, like a true romance. At the end of 2012, I was pleased to learn that B, who travels for work quite frequently, had scored a Southwest companion pass (AKA SCP). This means that anywhere he flies on Southwest, I can fly FOR FREE. FOR A WHOLE YEAR. Do you know what this means, people? Domestic travel insanity. In case anyone is wondering, you need to fly close to 70 flights give or take on SWA in one year and/or rack up what can only be referred to as a butt ton of points. I feel it is my duty to Southwest, the travel world, and most of humanity to document the year of the companion pass. Enter series post that I am already behind on.
We christened the SCP with our new year's trip to Charleston, SC. While I've already shown you the eye candy, I still owe you and the good city of Charleston some destination highlights. In short, Charleston is an amazing little place. It will charm you with its historic architecture. It will romance you with the ocean. And it will win your full love through your stomach. Here are the highlights we experienced on our 3 day trip:
SCP Trip #1: Charleston, SC - December 29, 2012-January 2, 2013
Eat
McCrady's - The best (and priciest) dining experience we had. Gorgeous space. Phenomenal service and a deliciously filling tasting menu. So hard to choose! Don't miss the tasting menu. It goes to show that a James Beard award is no joke.
The Macintosh - This was our first meal (brunch) in Charleston and it left an impression. The space is hip and cozy and our server was so very friendly and helpful. I, of course, ordered the richest thing on the menu or possibly ever, the "Mac Attack,"which is pork belly, bone marrow bread pudding and a poached egg. I get a delightful food coma just thinking about it. Please wash it down with their version of a Manhattan, which is ON TAP. Why don't more places have Manhattans on tap?! Crazy good.
SNOB - We spent New Year's Eve here with a 10:15 reservation, which included a champagne toast, hats and a lot of drinks and food. The food was good but I'd recommend the two above much more.
Lowcountry Bistro - Brunch! I figured there was no better place to try chicken and waffles for the first time than the South. What was I waiting for?! A sweet potato corn bread waffle, which would be amazing on its own, topped with perfectly fried chicken and a bloody mary really is the breakfast of champions. The prices seem a bit steep for brunch, but then again, they are located on touristy Market Street.
Drink
Gin Joint - If there were a bar that I wanted to fold up and put in my suitcase to take home, this would be it. Somewhere at the very beginning of the craft cocktail explosion, I fell in love with gin cocktails so I had to check out a place named after the spirit. "Joint" is an appropriate moniker as it is quite tiny, but we managed to score 4 of the best seats in the house: at the bar! It was like watching mad scientists create beautiful alcoholic experiments, complete with carved blocks of ice and somehow mostly without pretension. Truth be told, I like a little dose of pretension here and there. (Chicago people, think Violet Hour meets the Whistler.) We went a little crazy in this place trying all kinds of deliciousness that I would recap for you, but I think their menu has already changed. I eagerly tried a bartender creation that included my new love, rye, and some herbal flavors...maybe aperol? Please go there. And order a cheese plate too. It's perfect (one friend declared a cheese the best he's ever had) and you'll undoubtedly need a snack with all those cocktails.
Vendue - When you're strolling around and need to take a break and soak in the sunset and warm temps, this place has lots of options and is just a stone's throw from Gin Joint. Decent cocktails. I'm a sucker for rooftops. (Top photo is sunset view from the roof.)
Henry's on the Market - Speaking of rooftops, apparently we have a thing for them. This rooftop was a little divey, but it did the trick. Plus it gave us the opportunity to sample she crab soup for the first time. I need more of that in my life.
See
I am happy to report that we did not spend our 3 day trip entirely in restaurants and bars. Strangely, we really didn't shop much at all, but we did check out a few house tours.
Nathaniel Russell House - Seeing as our country isn't that old, a 200+ year old house is crazy old by US standards. Docent-guided tours are available for this massive restored house. I wouldn't have wanted to be a woman living in that age, but I have to admit, I wouldn't mind a modern version of the daily "social" hour between noon and 2 where I just drink tea and lady friends stop by.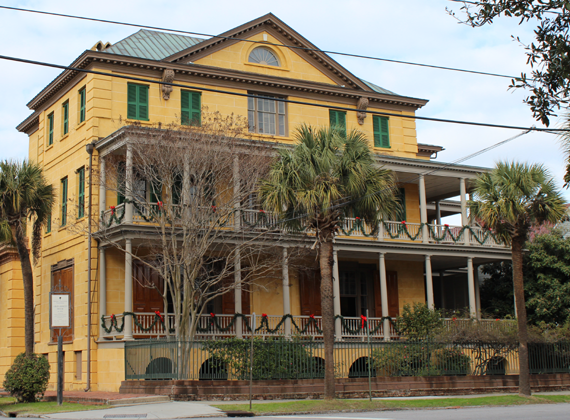 Aiken-Rhett House - As opposed to the Russell house, this house has been preserved, rather than restored. I'm not sure if it was the house itself, but I found this to be the preferred tour. Also, the tours are audio-guided, but still as engaging, if not more, than if we had a guide. There's something thrilling about seeing the rug, the furniture, the bathtub and the remnants of the wallpaper that existed in this luxurious previous lifestyle. Bonus: you can visit both house museums for $16 if you bring your receipt from one to the other. Well worth it. Plus I want to live on their porch.

Highest recommendation: Walk. Just walk! Walk south on Meeting Street until you hit South Battery Street (pictured above thanks to the iPhone) which runs along White Point Garden. Then gawk at the mansions on Battery, soak in the ocean, and walk up East Battery to do more mansion gawking.
Stay
City Centre - By the time we booked this trip (with FREE FLIGHTS), most of the decent, but not crazy expensive hotels were booked. Fortunately, we decided to test the VRBO waters for the first time and see Charleston like a true local by renting a house. However, this was not just any house, this was an adorable carriage house complete with a front courtyard and two+ bedrooms and baths each separated by floor. So basically each couple had their own floor and we had the convenience of the living areas to hang out on our down times. This home is HIGHLY recommended, with a super responsive owner and is in an excellent location; we walked everywhere! Plus it ended up costing about the same as it was going to cost us to stay in the non-descript Hampton Inn.
All in all Charleston was perfect for a whirlwind, Holiday trip, with plenty to eat, drink, and then walk it all off while soaking in the scenery. What's your favorite thing about Charleston? Any recommendations for another southern SWA trip? Or other favorite foodie cities? Anyone else out there living it up with their SCP or any other kind of companion pass?
Get your travel bug on with all the other travel posts here!