Bling of the Month: Wedding Paste
Don't worry, not the kind you eat! We're talking paste bling! I just realized that there was no January bling. Or February after I had reinstated the bling posts as monthly. Oops. So yeah, it's March, which means that B and I have now been married 6 months. I was pretty anti blogging about the wedding for a lot of reasons, mostly because it's personal and it's annoying, in a nutshell. Seriously, don't you want to temporarily delete some people from Facebook during wedding planning? I also felt it would take away some of the meaning for us and our guests if I blogged a whole bunch of planning details here. But I think it's time to do a little sharing about some of the details that relate to unpatterned and that might be useful to a reader somewhere out there.
I found my wedding dress at a consignment shop with my mom about three months after we got engaged on my first shopping trip. I surprised my mom and myself by finding it that day and committing to it. There were no tears involved, just for the record. Once I had it, I knew that I wanted an amazing necklace to go with it. When B and I traveled through Michigan for New Year's 2011-2012, I of course did some vintage/antique shopping. I dream of returning to Arcadian Antiques in Ann Arbor where I found this stunning sterling silver and paste necklace, dating from the 1920's. B was working and I happened to search vintage/antique in my phone on yelp and wandered into the Nickels Arcade shops.
As soon as I saw it, I was immediately texting people photos of it on me as I was hemming and hawing over whether to buy it. I dragged B in there on our way out of town and after many approval conversations from him, my mom, and at least 3 friends and my brother, I bought the necklace. Yes, I called my brother, who has minimal to no interest in fashion or jewelry to discuss a necklace. That's when I knew I should just get it (and that's the level of crazy indecisiveness I experience weekly.) But, just like the dress, I never looked back and never saw anything else that I remotely would have wanted instead. Plus it was a way better souvenir from the trip than anything Michigan related. Yuck!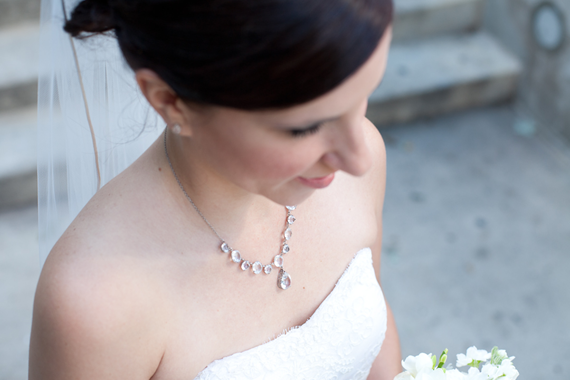 I'm happy to report that I have even worn the necklace multiple times since the wedding, in a dressy and casual fashion. So that is some practical bling and wedding babble I can get behind.
Bottom image courtesy of incredible wedding photographer, Luzco Photography