Apartment Tour: 1 of 2
So things have been pretty quiet around here. So quiet that the Wordpress dashboard has changed since the last time I blogged. Lame! Lots of excuses, but it mostly boils down to: we bought a house. Insert massive screeches of excitement (tinged with anxiety)! This has been distracting me from other things in life like blogging. And laundry. And returning phone calls. While I am ecstatic to have our own space and make it our own (in progress - more soon!) I am a little sad to leave this apartment that we have called home for the past 4+ years. B and I have made a lot of memories here: first place together, planned a wedding and got married while we lived here, had a handful of fun gatherings of friends and family here, and painted a table and some wood paneling. Plus we have the most amazing landlords. As a tribute to our first "home" together before the house, I'm featuring some our apartment, which I've been meaning to do for a while. To avoid photo overload, slightly, I'm breaking the tour into two posts, starting with the front (north) half of the apartment. Walk with me, talk with me.
ENTRY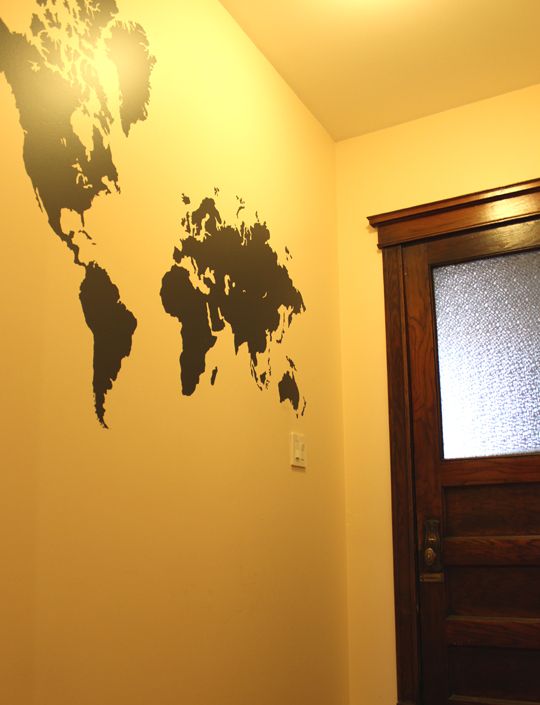 One of my favorite things about this place is all the original details the owners preserved while renovating, like that mirror and the fireplace and the door hardware.
LIVING ROOM
Bird Throw Pillows: Home Goods
Coffee table: Lane; inherited
Candlesticks: Design Within Reach (gifted)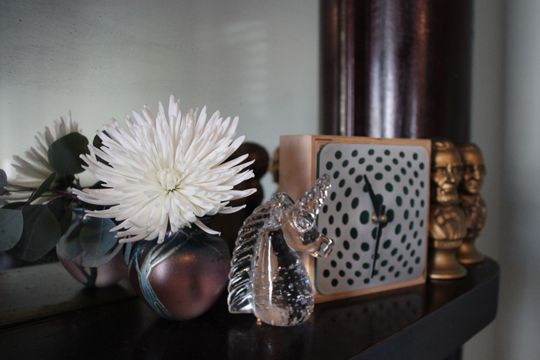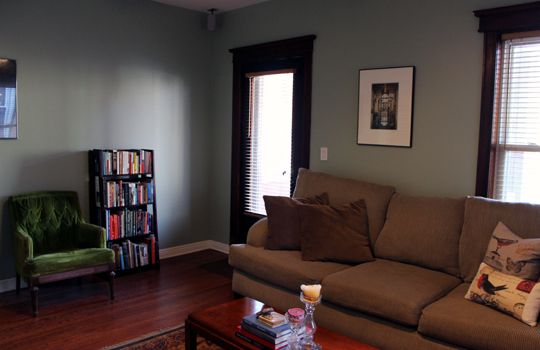 Photograph over sofa: Brad Pogatetz
Chair: inherited...and falling apart
Bookshelf: Target
Credenza: Craigslist (one of my top finds ever)
Globe: Post 27
Candlesticks: thrifted
GUEST BEDROOM
Duvet: Ikea (ancient and in need of an upgrade for the new place)
State Prints: Atlas art by Brad; these were originally table signs for our wedding. I hung the states B has lived in.
Framed/Signed Neko Case tour screenprint: Kathleen Judge (gifted; especially lovely because I had actually been to a show on this poster.)
Deer candleholder: Target (which I have subsequently broken since taking this photo)
The Tivoli radio, Diana F+ camera and the Eames print coasters were all incidentally also gifted.
When B and I moved into this apartment, we signed a 6 month lease, over 4 years later, we are still here! Looking at these photos reminds me of how much we have worked with what we had rather than purchasing a lot of new furniture since the plan all along was to buy. It also reminded me how many REALLY GOOD gifts people have given us over the years. While I look forward to upgrading some of our furniture pieces, I'm excited to give these more sentimental pieces a new home!