Glass Roosters and Other Things I Didn't Buy in Indiana
A work trip took me to North Central Indiana recently. Swank! Instead of stopping for a nice hot meal at an adorable roadside cafe on my lunch, I stopped for a stroll through a vast and meandering antique mall and ate fast food behind the wheel on my way to Northwest Indiana. One good decision leads to one poor decision. That's a saying, right? Like that one time I went to Maumee, OH, I present to you the things I didn't buy in Indiana and maybe a few things I did.
"I got a little red rooster too lazy to crow for day!" Okay, I didn't even want a little white rooster or a hen or whatever this is. I do have a small collection of milk glass, but this did not need to be in it. They had a whole slew of these littered about the place. However, if I weren't on a self-imposed ban of glassware buying I would have bought those gorgeous glasses in the background.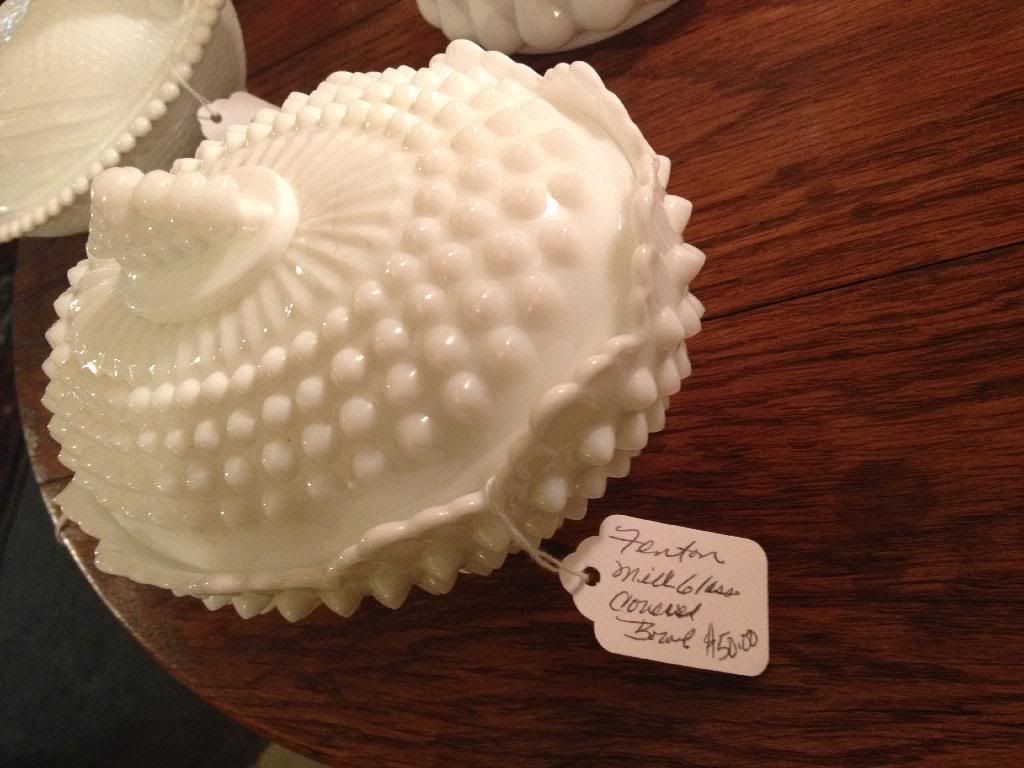 Now this is a piece of milk glass I can get behind! Except I already have one because my amazing friend bought me this same Fenton piece. It currently sits on our bathroom vanity holding lipsticks. Because I decided to wear more lipstick in 2014. Dream big, kids.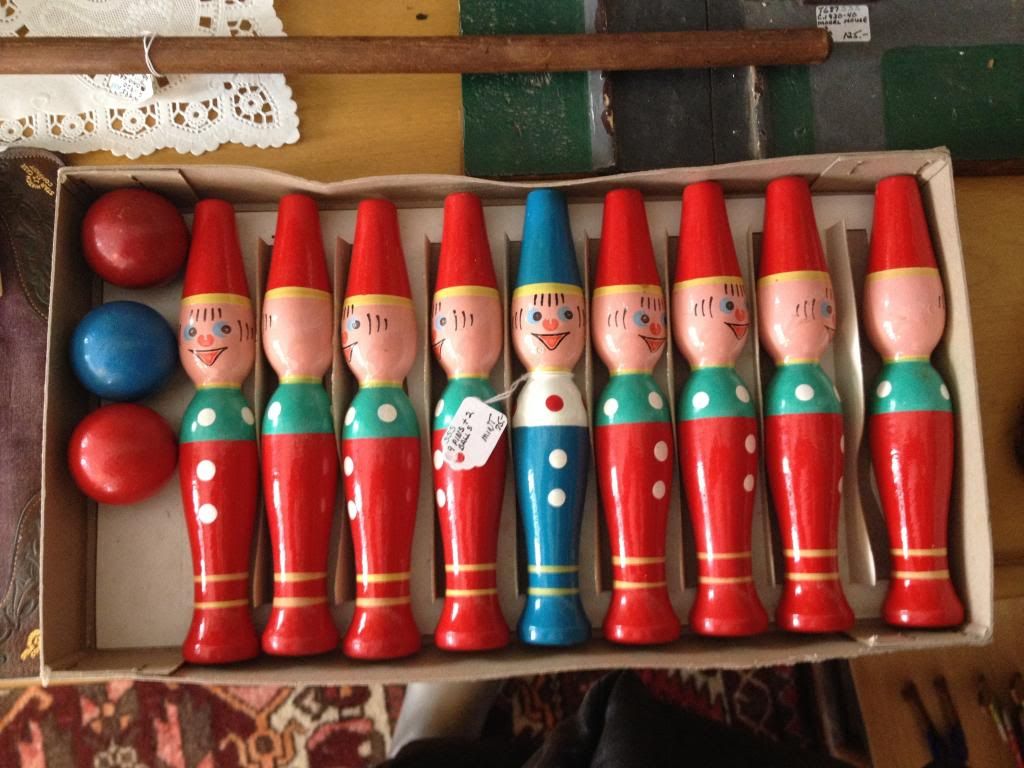 The place had a handful of these and I was all, "What a great kid gift!" Then I saw the $95 price tag and I was all, "Hell naw!" That's the thing about antique stores. One lady's toddler toy is one lady's collector's item. Dang.
Speaking of glass, I was really tempted by these sort of blue opaline glass pieces. I hemmed and hawed over them and even did the pick up and start walking with them. Then I decided they were just a touch to froufy for me. Right? Ugh, I don't know. They were $22 and $25 a piece.
I loved these tufted green Victorian chairs, but have absolutely no use for them. $625 for 4, which is actually pretty good. If you're looking for 4 Victorian chairs.
Oh my, I really loved this piece. It spins, people! It would be a gorgeous end table/bookshelf. I don't recall the price, but I think it was in the 300's, which exceeded my end table budget.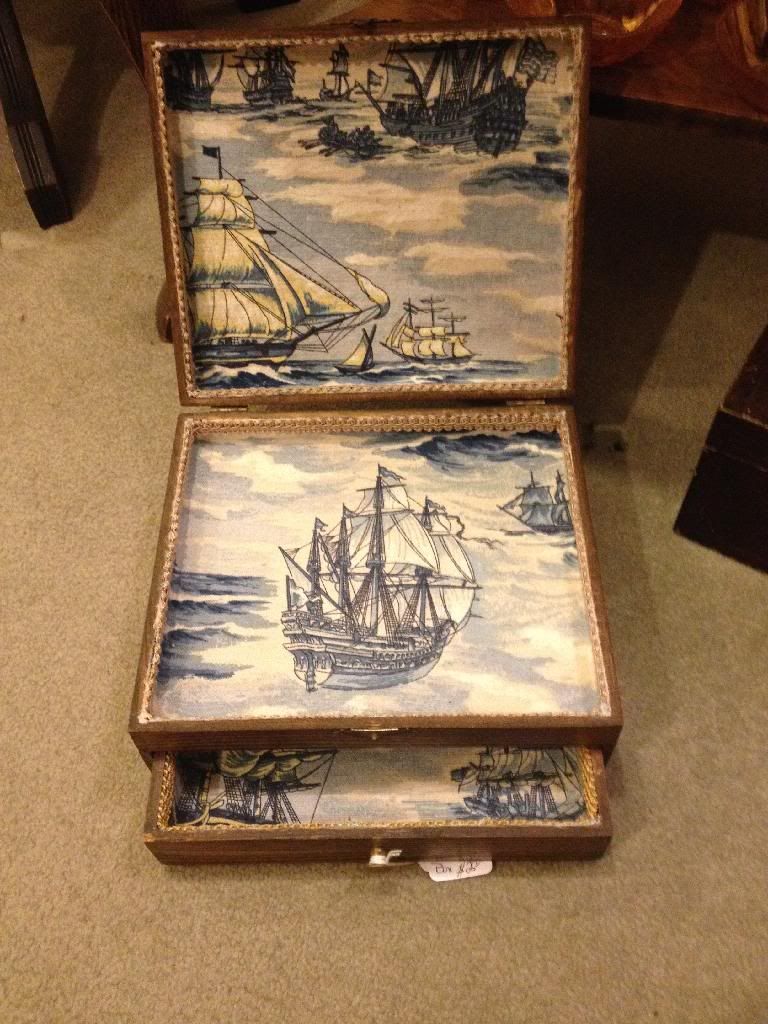 Okay, switching into things I did buy. But this one is not for me. I spied it with a friend in mind and texted her a photo. She wanted it. The top of the box is gorgeous, but I can' t post it here because she'll see it and I'm saving the deliciousness for in-person. I love the nautical canvas DIY lining and the old wood. I think it could look amazing with a little love, but I'm leaving as-is for the recipient to decide. That's the thing, if I can get a grasp of your style or you tell me something you want, I will find you fab stuff in the middle of Indiana.
Oh heyyy Heywood Wakefield tea cart! I saw this, fell in love, and then saw the hold sign. If you're my friend in real life or on Facebook, you probably already know that I placed it on double hold AND they called me! When I was already almost back to Chicago. Guess who talked them down in price and is taking a little pilgrimage back to North Central IN this weekend? Fingers crossed I don't accidentally buy that tray of glasses! More to come on where I put this! (Not. Exactly. Positive.)
Last but not least: RAWR! Don't worry I didn't buy this. Yet.